Innovative New Memory Foam Dog Bed Is Also An Attractive Rug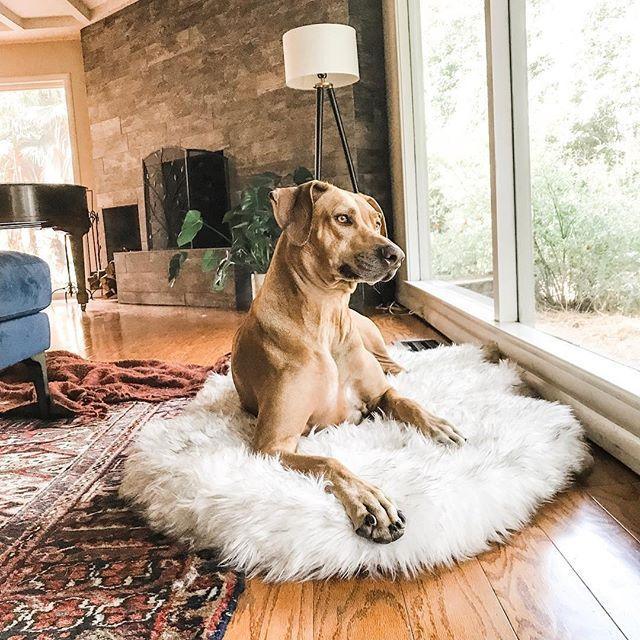 Ft Lauderdale, FL (June 19, 2018) Online dog products leader Treat A Dog (www.treatadog.com) has introduced the PupRug™, an innovative premium memory foam dog bed that doubles as an attractive rug to complement any home decor. Known for products that improve the quality of life for both dogs and their owners, Treat A Dog's popular memory foam dog beds give dogs the sleep experience they deserve. After listening to customer feedback, Treat A Dog developed its latest innovation in pet beds, the PupRug™ Faux Fur Memory Foam Orthopedic Bed.
The PupRug™ is designed to provide our furry friends with the ultimate place to rest while blending seamlessly into homes with its modern and luxurious design. Unlike other pet beds, the PupRug™, with its attractive faux fur and area rug style, looks natural as part of your home decor and doesn't stick out like an eyesore. Pet owners will no longer have to hide the bulky dog bed when guests come over.
Covered in ultra-soft faux fur, the PupRug™ comes in two unique styles and sizes and is filled with premium, long-lasting memory foam that minimizes joint pain and improves a pet's health and mobility. Pups will sleep in the lap of luxury thanks to the pressure-relieving memory foam base and the plush, removable and washable faux fur cover. Each bed is also equipped with a non-skid bottom that prevents moving and shifting.
"With the PupRug™ we wanted to develop a supportive and cozy bed that improves the well-being of dogs of all breeds and ages with a design that caters to the owner's taste," explains David Gimes, founder and CEO of Treat A Dog. "Now a high-quality memory foam pet bed can look natural and welcoming in any home environment," Gimes continued.
The PupRug™ Faux Fur Memory Foam Orthopedic Bed is available now at a suggested retail price of $299 for size large and $349 for size x-large. During launch and throughout the summer, Treat A Dog is offering a special promotional discount of 60% off the retail price ($119 Large / $139 X-Large). Visit www.treatatdog.com to take advantage of this special introductory pricing.
Introducing The PupRug™ Faux Fur Orthopedic Dog Bed
Here's what early customers are saying about their PupRugs™:
"My pup loves the bed. She knew it was for her immediately. I got the large one and it fits her ok. If she was any bigger she would need the extra large. She's a medium sized 50 lb dog. Gorgeous bed though that goes well with our decor too!" -Kelli B.
"Everyone that walks into my house comments on the dog bed. Really happy with this purchase!" –Kelly C.
"This dog bed is my best purchase yet for my puppy! It is loved by my puppy but also by me because it is cushy enough for me to be down on the floor with him and it goes nicely with my decor!" -- Heather U.
"After 7 tries to buy a bed for my dog, he finally loves this one and actually lays on it!!! Thank you!!!" –Andrea S.
"We've had the curved version of the bed for about a month, and it's the best bed we've ever had. It looks great and has only needed occasional vacuuming. It never looks hairy or dirty, and it's really well made with very thick memory foam. The dogs (and cat) love it so much they all try to cram themselves on it at once! Can't wait for them to restock so we can get another one." -Elizabeth C
About Treat A Dog 
Founded in 2014, Treat A Dog (www.treatadog.com) has strived to develop premium pet products that address needs for both the owner and the dog. Since its inception Treat A Dog has shipped over 2,000,000 pet products across the United States and Canada. Some of Treat A Dog's popular products include their travel collection of car seat covers and the memory foam dog bed collection. The company's headquarters are in Ft. Lauderdale, Florida.